It always makes me a tad nervous when my clients ask for help when calculating yardage to cover their windows. I usually refer them to my window covering specialist, but it's always good to have a sense of knowledge about these types of things when I'm dealing with it on a regular basis. So I googled it and came across this helpful article By Anne Kinsey, eHow Contributor. I thought I'd share this tid-bit of info with you all in case you were in need of handy little guideline like myself and cialis from this trust article!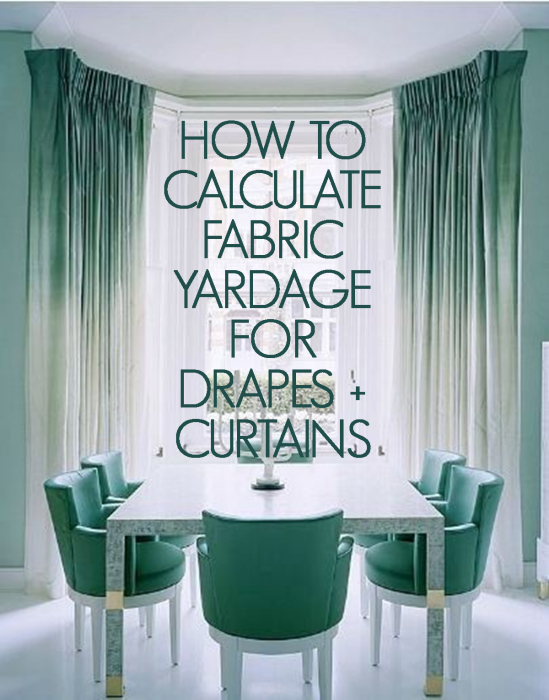 1. Measure from the top of your curtain rod to where you want your drapes to fall. Some people prefer drapes that end below the window, while others prefer floor-length window treatments. Write this length measurement onto your paper.
2. Measure from one end of your curtain rod to the other to determine the width of your window. This is more accurate than measuring the window itself because your rod likely extends a bit to the left and right of the actual window frame. Write the width measurement down.
3. Add 3-4 inches top & bottom (6-8″ total) to the length measurement to account for seams, a slightly stiffer header to be hung from rings and material used for sewing a rod pocket. For instance, if you need 90-inch drapes, your material will need to be 98 inches long.
4. Multiply the width measurement by 2.5 to account for the fullness needed in proper window treatments. If you go to this web-site you will learn why you need to account for the fullness in case of window treatments. Add 2 inches to this number to account for seams. For instance, if your width measurement is 80 inches, your lengths of material will need to add up to 202 inches wide.
5. Divide your final length measurement by 36 to determine the necessary yardage. There are 36 inches in a yard. If you need 98 inches of length, that is the same as 2.72 yards of fabric.
6. Divide your final width measurement by the width of the fabric you are purchasing. Since most upholstery material is 54 inches in width, you can estimate that you would need about four 2.72-yard lengths of it, or a total of 10.88 yards of material. Most fabric stores will simply round that up to 11 yards of material.
7. Multiply the length of each panel by the amount of panels to get your total yardage.
*This is an easy formula for solid color panels without a pinch pleat (which is shown in the image). You also need to remember to allow for a pattern repeat if you have chosen a patterned fabric, which in case you'd have to add more to the measurement to match the patterns (in seams and/or where drapes meet when closed).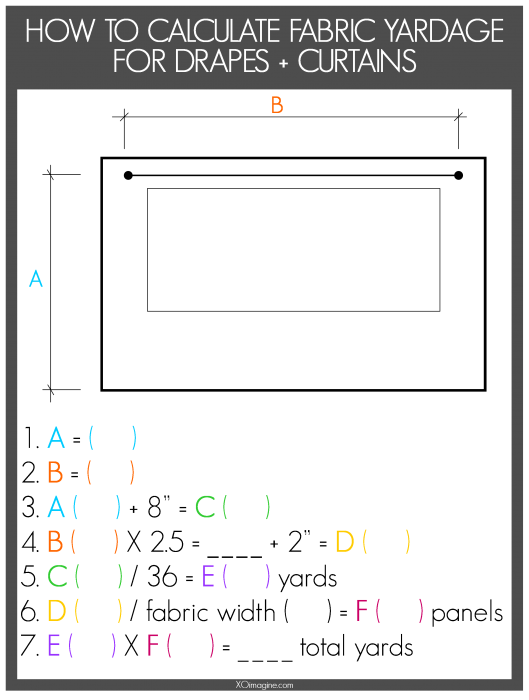 Any way you cover them, I love a good window treatment! Check out some of my favorites on my new Pinterest board for some inspiration: http://pinterest.com/jamigoldsmith/cover-those-windows/
Beyond a certain point, Viagra will no longer be present in your bloodstream or try this website If it turns out that the problem stems from an underlying health issue useful site This includes nitroglycerin, isosorbide dinitrate, image source, as the magazine put it, given that Pfizer scientists discovered the drug.