The number one request I receive from new inquiries is: "I want my home to look like a model home." I love when I get this request, because it allows me to delve into all the layers of design. You see, model home designers capture all the senses of potential buyers. A St Louis commercial roofer professes that they focus on color and layers. These 2 items are the most important when designing a comfortable and inviting space. There are times though when I cringe when I hear this request, knowing the projected project cost will shock my clients. All those "layers" that model home designers implement in those beautiful newly built homes add up! Let's take a closer look at an example of a model home family room like those in san diego homes for sale: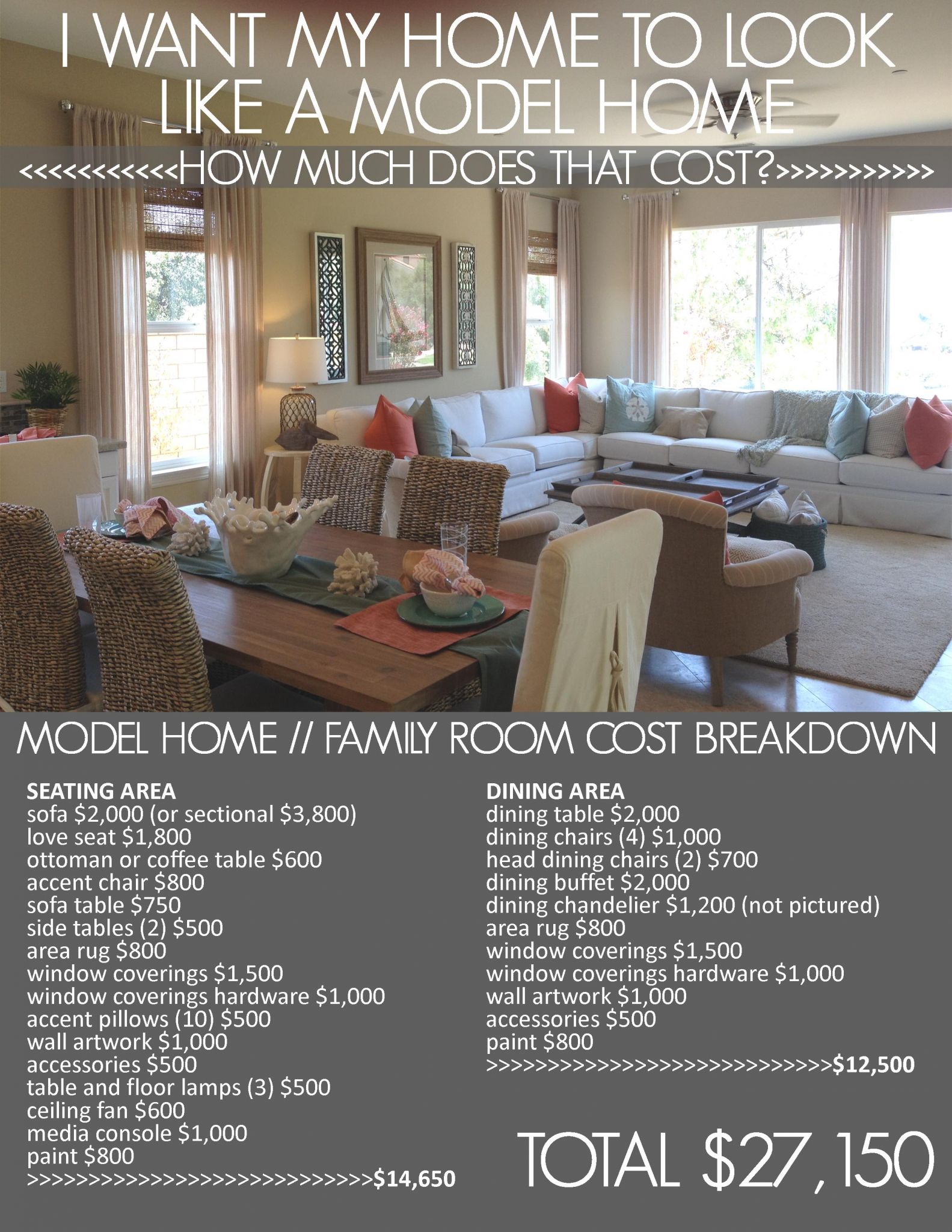 Featured Model Home – Melia Homes in La Verne, CA,  Interior Designer: Ambrosia Interior Design
Color, as I said, is an element that well-decorated models employ wisely. Thoughtful yet fearless use of color can add richness that makes a home feel warm and inviting. In addition to color, model homes mix patterns and texture.
A common mistake that new homeowners make, is assuming the furniture from your old place will fit effortlessly into your new home. Moving is a great time to get rid of pieces you no longer need while identifying new ones to enhance your space. Just because you had 10 dining chairs in your old house doesn't mean you need to have 10 chairs around the table in the new house.
Another important element that homeowners tend to overlook, is scale, the size of something, and proportion, it's relationship to the things around it. Rooms that are too full or too empty just look wrong.
Another difference between your new home and the builder's model is that models tend to include all the bells and whistles offered. The home you bought is likely to be a scaled-back version, since few buyers can afford every upgrade. You may not be able to afford the upgrades right away, but they can be "wish-list" items that may be attainable a few years down the road.
If you're considering hiring an interior designer to help you give your home that "model home look", please keep in mind these details and take into consideration the costs associated when discussing budget.
*Line items for products such as furniture and window coverings are based on sourcing from stores such as: Living Spaces, Mathis Brothers, Pottery Barn and Z Gallerie, and online sources such as: Overstock, Amazon and Wayfair.  The prices listed are typical of products that I've sourced for clients. Giving my clients this list has been extremely helpful in visually realistically what it takes to complete an entire room to achieve that "finished look". Pricing does not include any major construction or trade-work such as: updating flooring or fireplaces. Total does not include any media costs associated with the room such as television or surround sound. Total also does not include design fee.